Car Accident Lawyer & Injury Attorney
If you or a loved one has been injured in an automobile accident then call 330-244-8000 to meet with our car accident lawyers and discuss your injury claim options. Car accidents happen in the blink of an eye, and often with catastrophic results. Our team of auto accident attorneys will thoroughly investigate all aspects of your case including lost wages, medical bills, pain and suffering, disfigurement and permanency of injury, loss of quality of life and the repair/replacement of your car. We will ensure that your rights are protected, and that you do not become a victim yet again.
Our personal injury attorneys have successfully represented clients in numerous jury trials and have resolved multi-million dollar cases, including obtaining a verdict of $7.2 million dollars in a wrongful death case and also gaining another client over $3.7 million dollars in another wrongful death case.

Car Accident Lawyer – No Recovery, No Fee
Our experienced auto accident attorneys are available to meet with you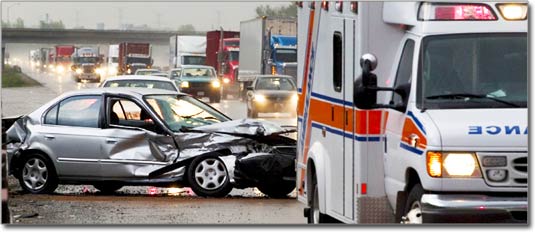 anytime for a consultation. There also will be no upfront fees or costs involved in our representation. No Recovery – No Fee , a contingency fee, means you don't pay us legal fees unless we successfully recover compensation for your loss. Costs and expenses may be paid from the client's percentage of any recovery or paid as the case progresses. If no compensation is recovered, then costs and expenses are handled in accordance with the agreement made at the beginning of the case.
Case Evaluation by an Automobile Accident Lawyer
If you or someone you love has been injured in an auto accident you may have many questions for a car accident lawyer such as:

 Do I have a case?


 What should I be doing?


 Should I be talking to the insurance company?


 How much money can I recover?


 What fees do I have to pay?


 How soon can my case be resolved?


 What should I do next?
These are all great questions that we would be glad to assist you with. Call us now at (330) 244-8000 for immediate attention or fill out the form below and detail any of your concerns.